Hey Lovelies,
Today's post is about a MAJOR staple in the Preppy Wardrobe: The Longchamp. If you're on a budget then I would say either save up (these are worth it, they last for years and they never go out of style) or try and persuade parents/grandparents/spouses to give it as a gift. If needs be then spread it across birthday & Christmas or get both sets of grandparents to give it as a joint present.
So, just a bit of info to start off with for the newly converted Prep... What everyone is talking about when they say Longchamp is the Longchamp Le Pliage range. Longchamp does more expensive leather bags, but the Le Pliage range is kind of it's "budget" range, but it's also by far it's best known and most popular range.
The actual bags themselves are made of Nylon and come in quite a few different "basic" colours. The handles and top flap are made of brown leather, which is how you can tell from afar that a bag is a Longchamp.
Longchamps come in 3 main styles, for some strange reason they're named differently in the US & UK. The UK names are in brackets:
- Large tote (Large Shopper) $145 / £72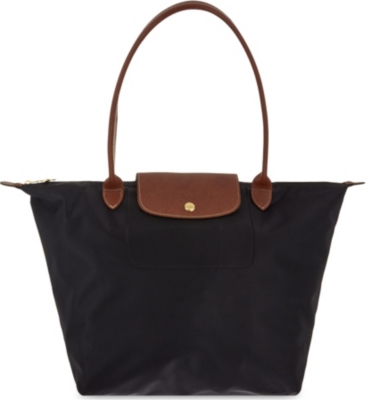 - Medium Shoulder Tote (Small Shopper) $125 / £62
- Medium tote (Medium Handbag) $115 / £58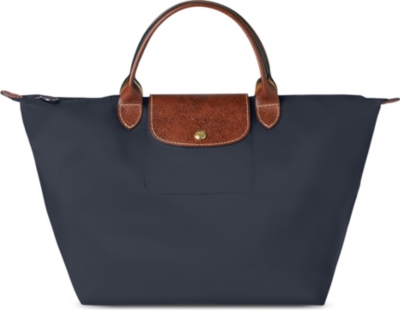 Personally, I prefer the small shopper. I think the large shopper is a bit too big as an everyday handbag, unless you carry around a laptop all the time; and I think the handles on the medium handbag are a bit small - I like to be able to put my bag on my shoulders.
Obviously this is all down to personal preference and requirements, so you really should go and have a look at the bags before you get one.
On the same note - go to a respected, genuine store to buy them. There are a hell of a lot of fakes knocking around, some of them really convincing, and you don't want to get caught out (see this eBay guide on fakes). In the UK Selfridges, Harrods & some House of Fraser stock them. In the US Nordstrom, Saks 5th Ave & Bloomingdales stock them, and obviously there's the Longchamp Website - there's a more comprehensive list of stockists on there too.
Another piece of advice to sign off with: eBay is full of "Longchamp base shapers". I wouldn't really bother with these, the bag keeps its shape anyways, they look really uncomfortable and it's just another expense to add to an already fairly expensive bag.